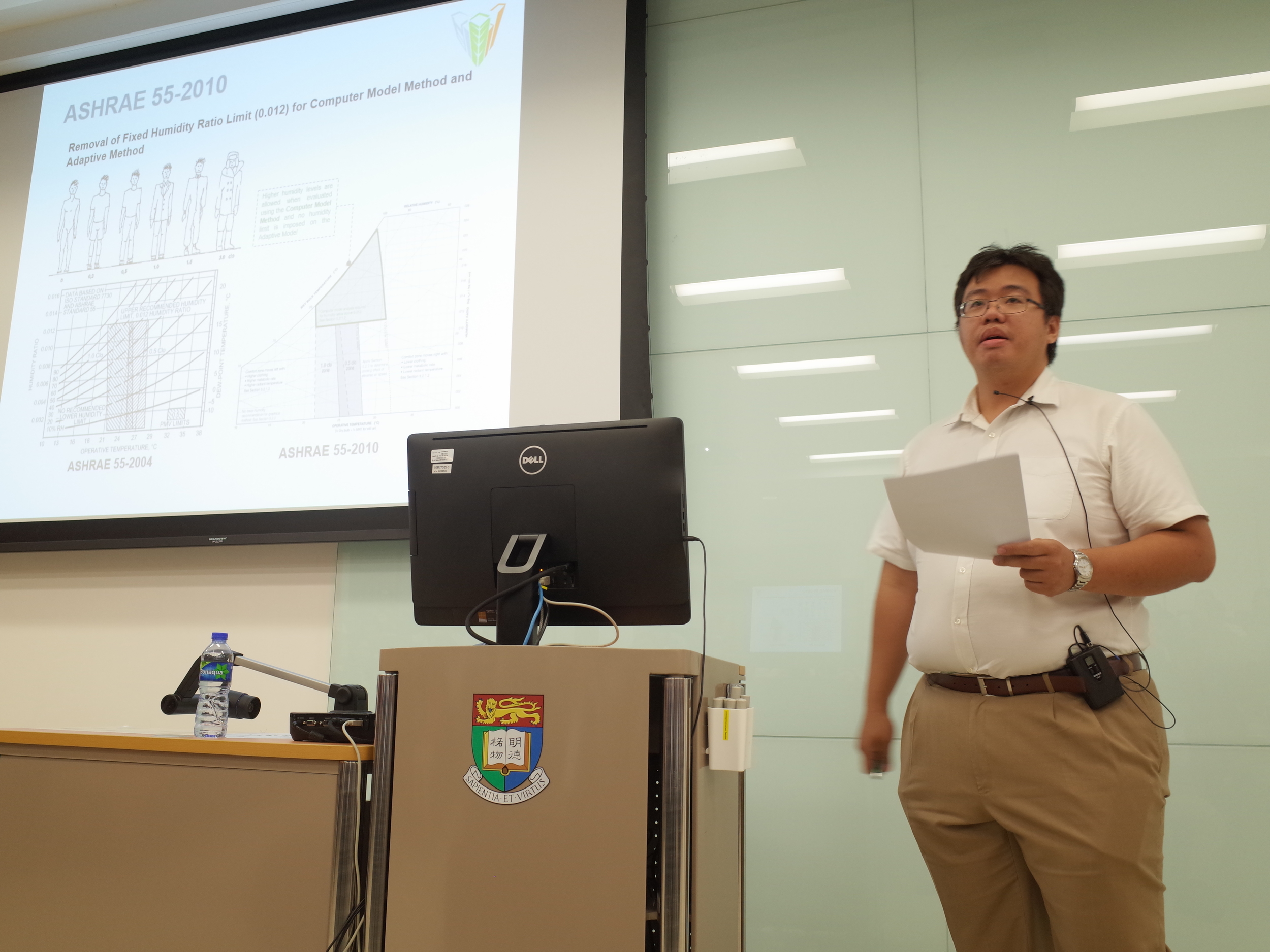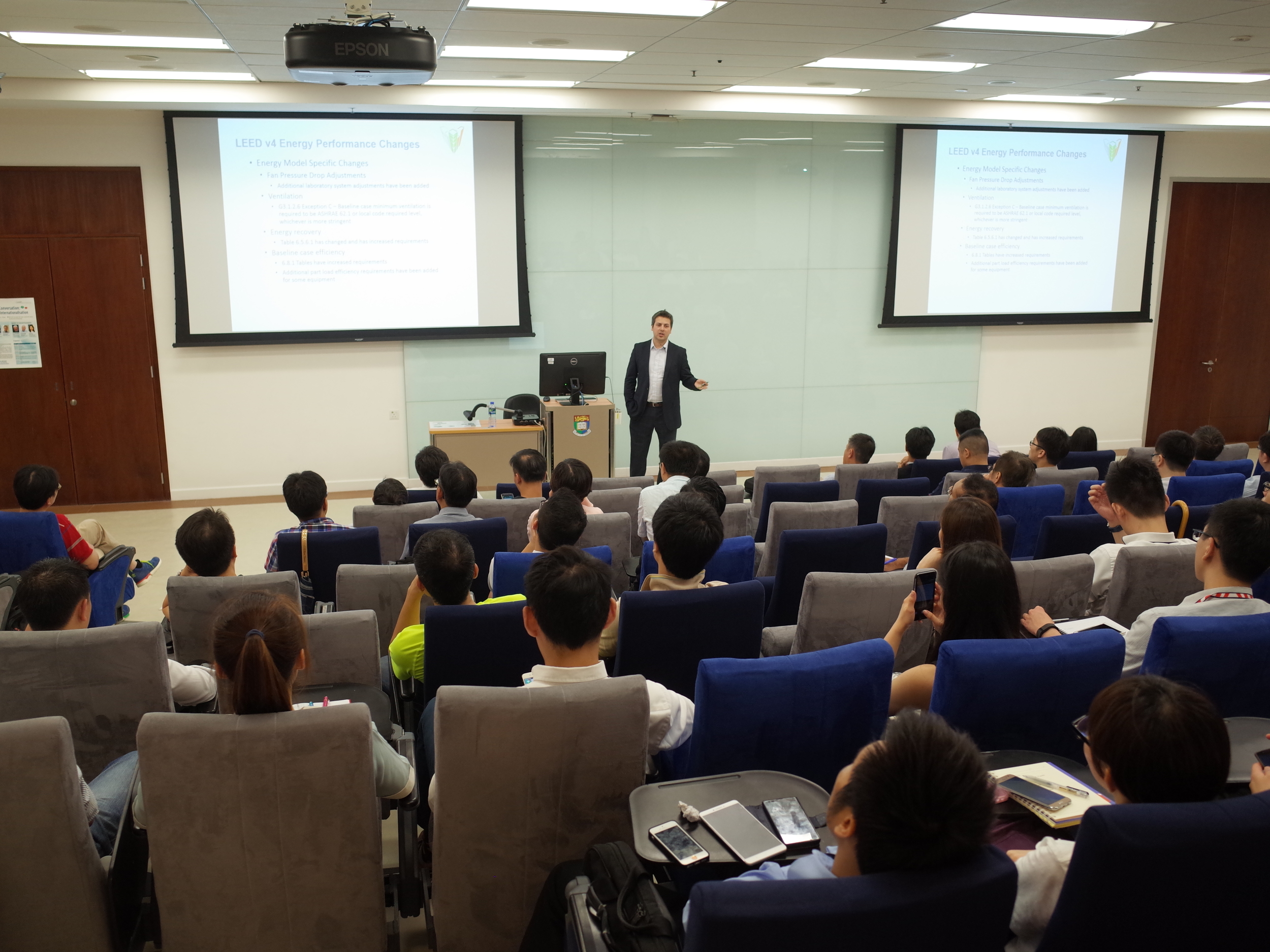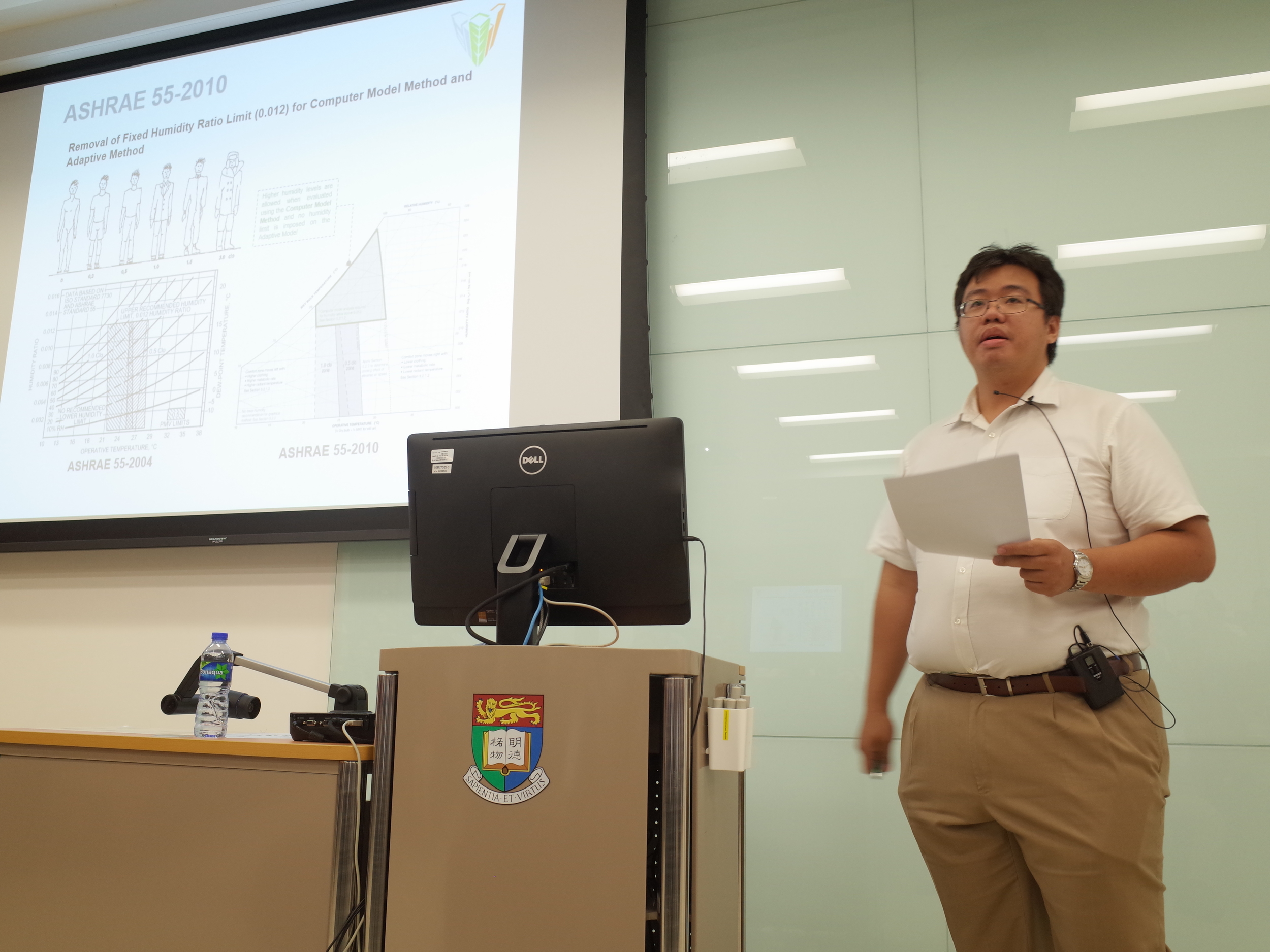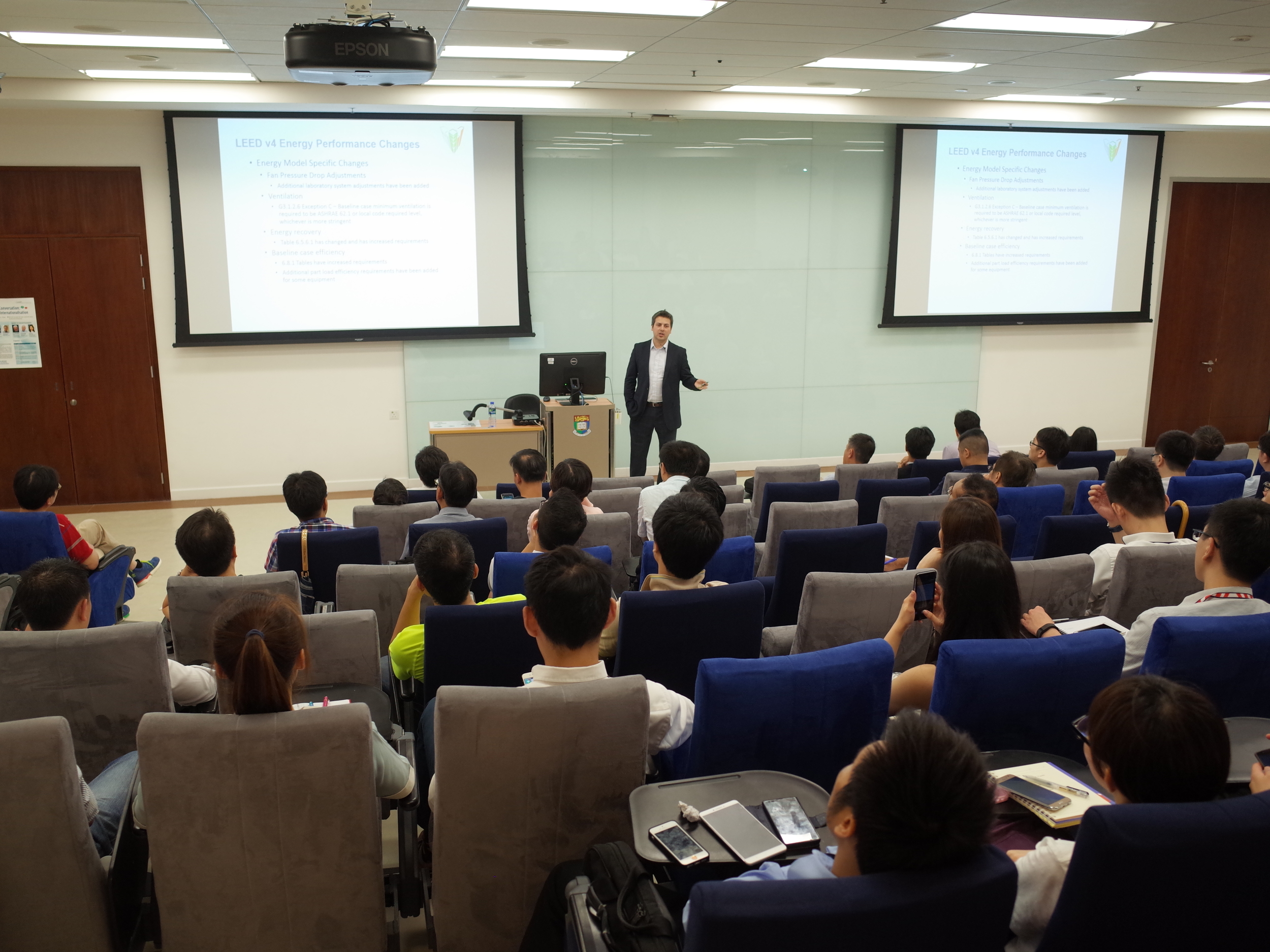 When:
Date : 28 June 2016 (Tuesday)
Time : 7:00 – 8:30pm (Registration will start at 6:30pm)
 
Add to Calendar
2016-06-28 18:30:00
2016-06-28 20:30:00
Asia/Hong_Kong
ASHRAE Standards and LEED v4 Update
19:00 Start of the Technical Seminar. Background: USGBC launched the new LEED version 4 in November 2013 and this brought major revisions of the standard. LEED v4 has enhanced the requirements on a number of credits and now it references the 2010 editions of the major ASHRAE standards such as ASHRAE 90.1, ASHRAE 62.1 and ASHRAE 55 among others. This seminar aims at providing an overview of the new requirements of LEED v4 related to ASHRAE standards. The seminar will cover relevant parts of different LEED rating schemes including New Construction, Existing Buildings and Commercial Interiors. The current seminar is an introductory event for the new LEED v4 ASHRAE-related issues and it will be soon followed by a series of detailed seminars on separate ASHRAE standards and their application in LEED v4 co-organized by Platinum Hong Kong and ASHRAE Hong Kong Chapter. During the seminar, the speakers – Mr Rumen Yordanov and Mr Chris Leung will present tips for applying the new set of ASHRAE standards and some major revisions compared to LEED 2009. Content: - Energy – ASHRAE 90.1 – 2010; - Ventilation – ASHRAE 62.1 – 2010; - Thermal Comfort – ASHRAE 55 – 2010; - Commissioning – ASHRAE Guide 0-2005, ASHRAE Guideline 1.1-2007; - Energy Audit – ASHRAE Procedures for Commercial Building Energy Audits, 2nd edition
CPD-3.28, 3/F HKU Centennial Campus, Pokfulam Road, Hong Kong
Platinum HK and ASHRAE HK Chapter
ashraehk@gmail.com

Where:
Venue : CPD-3.28, 3/F HKU Centennial Campus, Pokfulam Road, Hong Kong
Background:
USGBC launched the new LEED version 4 in November 2013 and this brought major revisions of the standard. LEED v4 has enhanced the requirements on a number of credits and now it references the 2010 editions of the major ASHRAE standards such as ASHRAE 90.1, ASHRAE 62.1 and ASHRAE 55 among others.

This seminar aims at providing an overview of the new requirements of LEED v4 related to ASHRAE standards. The seminar will cover relevant parts of different LEED rating schemes including New Construction, Existing Buildings and Commercial Interiors. The current seminar is an introductory event for the new LEED v4 ASHRAE-related issues and it will be soon followed by a series of detailed seminars on separate ASHRAE standards and their application in LEED v4 co-organized by Platinum Hong Kong and ASHRAE Hong Kong Chapter.

During the seminar, the speakers – Mr Rumen Yordanov and Mr Chris Leung will present tips for applying the new set of ASHRAE standards and some major revisions compared to LEED 2009.
Content:
- Energy – ASHRAE 90.1 – 2010;
- Ventilation – ASHRAE 62.1 – 2010;
- Thermal Comfort – ASHRAE 55 – 2010;
- Commissioning – ASHRAE Guide 0-2005, ASHRAE Guideline 1.1-2007;
- Energy Audit – ASHRAE Procedures for Commercial Building Energy Audits, 2nd edition

Speakers:

Rumen Yordanov – Director of Asian European Engineering (AEE) Ltd.
Rumen (MSc, RPE, CEng, CEnv, MCIBSE, MASHRAE, MSEE, LEED AP BD+C, BEAM Pro) is a principal of Asian European Engineering (AEE) Ltd. Rumen Yordanov is an award-winning building systems and sustainability engineering consultant with experience in high-profile buildings in Asia-Pacific and Europe including commercial, residential, educational and critical systems. Rumen's professional interests include HVAC&R systems design, energy efficiency and building physics modelling among others.
Rumen has more than 12 years of sustainability and design experience in both Europe and Asia-Pacific. He is the current Education Committee Chair of Platinum Hong Kong. Rumen has been named by ASHRAE one of top 5 new faces of engineering for 2014. Rumen is also a winner of the first prize of the international Passive House Design Competition 2012 and second prize at Sustainable Architecture 2020-8.

Chris Leung – Principal Engineer of Cundall
Chris is a multidiscipline engineer with extensive knowledge and experience with integrated building mechanical systems and building envelope systems. As a licensed professional engineer from Ontario, Canada, Chris has worked on projects in Canada, USA, Mongolia, South East Asia and China. He have designed, developed and built advanced low energy building services systems, advanced facade systems and commissioned more than 50 solar thermal systems & geothermal systems. His professional interests include building mechanical system consulting, building envelope consulting, energy modeling, energy audit, HVAC system engineering and forensics engineering, solar thermal system design, and passive building system design among others.

Language:
Instruction media will be in English.

Fee:
Free of charge for all attendants.
Remarks:
1.5-hour CPD certificate will be provided.
Registration & Enquiry:
Number of participants is limited and prior registration is required. For registration, please complete Registration Form in the following link: http://goo.gl/forms/2bNTT7ZGW3KnNfGx2. Only the applications from the members of Organizer and supporting organizations will be accepted. The deadline of application is on 23 June 2016. Successful members will be notified by e-mail on or before 25 June 2016, which has to be presented at the registry of the venue entrance for verification. If the applicants have not received the confirmation e-mail on or before 25 June 2016, their applications will be regarded as not successful.

If typhoon signal no. 8 or black rainstorm signal is in force and still hoisted after 5:00 pm on that date, the talk would be cancelled without further arrangement or notification. For enquiry, please contact Mr. Cecil Man of ASHRAE Hong Kong Chapter at email to ashraehk@gmail.com.
Organizers:
 
Supporting Organizations: